SIMONA AMERICA Group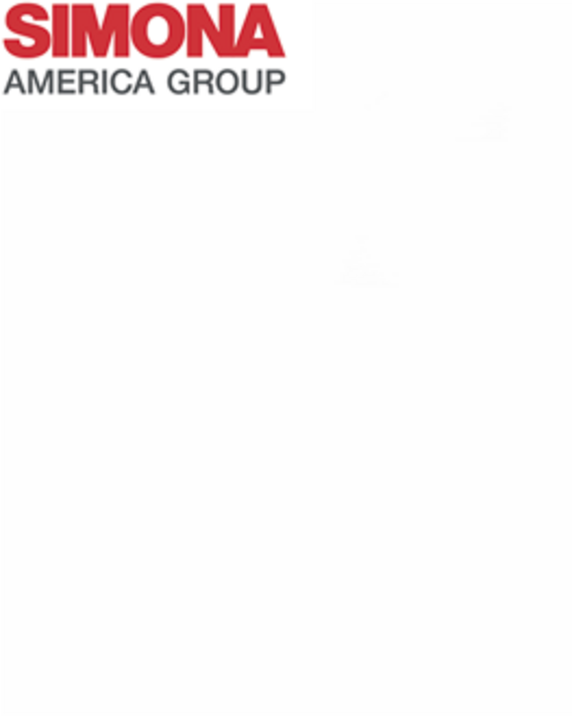 The SIMONA AMERICA Group is part of SIMONA AG, one of the leading producers and development partners in the field of thermoplastic products with production sites and sales offices around the globe.
SIMONA AMERICA GROUP
The SIMONA AMERICA GROUP is comprised of the following companies: SIMONA AMERICA Industries, SIMONA Boltaron, and SIMONA PMC. The SIMONA AMERICA GROUP is a leading supplier of thermoplastic sheets, solid rods, and welding rods made of PE, PP, rigid and expanded PVC as well as fluoropolymers including PVDF, E-CTFE and PFA. Our product range provides consistently high-quality solutions for the chemical processing and semiconductor industries, the aviation market, the orthopedic and prosthetic industry, as well as for applications in outdoor playground structures, signage, furniture, and the marine market. The Group generates annual sales of approximately USD 80 million and employs 250 people.

In acquiring Laminations and Boltaron, SIMONA AMERICA has considerably improved its position within the marketplace and has emerged as a major player in the US market. Additionally, the acquisition of Laminations has given us a larger stake in the global market for fluoropolymers, while the purchase of Boltaron has given us access to the growing market for aircraft interiors. These acquisitions represent a milestone for SIMONA AMERICA and are an integral part of our strategic re-engineering program to accelerate growth beyond the borders of Europe.

SIMONA AMERICA and Laminations operations and customer service are now consolidated at the Laminations site in Archbald, Pennsylvania. Effective July 1, 2014, the two companies have been operating under the name of SIMONA AMERICA Industries while SIMONA Boltaron continues its business operations in Newcomerstown, Ohio.
Effective August 1, 2018, the SIMONA AMERICA GROUP has acquired Premier Material Concepts (PMC), out of Findlay, Ohio, USA. SIMONA PMC is an extrusion company specializing primarily in the manufacturing of plastic sheet products used in recreational vehicles, agricultural, and industrial applications.
Discover SIMONA City
Our products are actively contributing to people's well-being and quality of life in various fields of application. The SIMONA City concept is designed to highlight our diverse range of activities. In offices and exhibition facilities, at airports and railway stations, in industrial and manufacturing units, at power stations and sewage treatment plants, on bridges, in motor vehicles and even in the area of leisure and sport, our high-quality plastics offer total peace of mind. SIMONA City will continue to grow. Indeed, our engineers and product managers have a pipeline filled with new ideas of how to improve people's quality of life with the help of plastics.

SIMONA City is designed to capture the spirit of diversity that infuses our portfolio of products. It is also an invitation to our business partners to join us in expanding the horizons of plastics engineering around the globe.
Operating at a global level, we are acknowledged as a solutions provider for polymer-based applications. Our focus is on delivering customer value. Drawing on our advanced skills in process engineering, we offer first-class products together with the benefits of fast, efficient and reliable workflow. Our aim is to pursue growth on our own terms and remain independent.
Our success is based on the efforts of our high-calibre staff and their unwavering dedication. Professional development and personal advancement form an integral part of our day-to-day activities and this applies not only to our employees, but also to our clients. We offer our valued clients a range of highly-targeted training programs, implemented either at our Technical Service Center or on the customer's premises.

SIMONA AMERICA is committed to delivering cutting-edge solutions to address some of the most pressing issues facing our society. Plastics are pre-destined for applications within the field of environmental protection, energy provision, mobility, and water supply. We have formulated a corporate strategy that is targeted closely at these areas of business.
SIMONA AMERICA is also a pioneer in environmental protection. For decades, we have been producing PVC sheets without hazardous lead stabilizers. 95% of the waste produced during operations is recycled. We are committed to the continuous advancement of energy efficiency at production level. Our integrated quality, environmental, and energy management system provides the basis for ongoing improvements to the quality of our products and processes as well as the sustainability of ecological protection in addition to helping us optimize our energy footprint and reduce CO2 emissions. Our management system is compliant with the requirements of DIN EN ISO 9001, DIN EN ISO 14001, DIN EN ISO 50001 and ISO/TS 16949.

Committed to social responsibilities as well, SIMONA AMERICA supports a number of aid projects, educational facilities, and other initiatives throughout the region and beyond. In 2007, Anita Bürkle, widow of Dr. Wolfgang Bürkle, who was SIMONA AG's CEO and later Chairman of the Supervisory Board for many years, established a foundation by the name of "Dr. Wolfgang und Anita Bürkle Stiftung." The shares in SIMONA AG bequeathed to Mrs. Bürkle by her late husband were transferred to this foundation. Its objective is to support and promote worthy causes in the town of Kirn and the region as a whole.
SIMONA AG shares are traded in the General Standard of Deutsche Börse, Frankfurt (Germany), as well as in Düsseldorf (Germany). Approximately 11% of our stock is held in free float, i.e. by the wider public. We are committed to a consistent and stable dividend policy, together with an attractive dividend yield.